Cubs are Hurting Zambrano by Sending him to Bullpen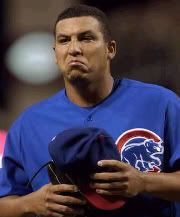 The Chicago Cubs announced Wednesday that pitcher Carlos Zambrano would no longer be in their starting rotation. Instead, Big Z will be placed in the bullpen as an eighth inning pitcher, an area that the Cubs have greatly struggled with this season. Prior to Wednesday's game, the bullpen had already blown four of seven saves this year.
The Cubs were pressed to make a move because starter Ted Lilly is coming off the disabled list Saturday. Instead of moving Carlos Silva into the bullpen, which was the expected move, Cubs' manager Lou Piniella decided Big Z would be the better fit. I'm not too sure this was the right move. Zambrano has been a hot head in the past, and I think that even though he has kept his cool so far it won't be long till explodes once again.
Some Cubs fans have already been celebrating the news that Zambrano, who disappointed them last year and so far this year, would no longer be in the starting rotation. But I don't think this was a good move. For one, Zambrano always gets off to a slow start. If he is only going to be pitching as the eighth inning guy, he doesn't really have much room for error. This will inevitably lead to Cubs fans hating him more than they already do. Second, Zambrano is used to working on a starter's schedule and having four days off between starts. Now he's got to be ready to pitch everyday, although it's unlikely Piniella will use him that frequently. Lastly, the Cubs are diminishing the value of Zambrano. As of right now he has a huge contract ($91.5 million, $17.9 of which is for 2010) and if the Cubs can convince Zambrano to waive his no trade clause, there is no team in their right mind that will pick up and eighth inning guy for that type of money.
Either way, Zambrano is the one who will suffer for this move. His value is greatly diminished by sitting him in the bullpen, and the Cubs fans will eat him alive if he starts to suck in that setup spot too. Zambrano ended his press conference by saying "I will be back." I don't know about that Big Z, if you blow this one, you might want to get far away from the Windy City.
Sources:
Cubs Move Carlos Zambrano to Bullpen [Chicago Breaking Sports]