Did Baron Davis Pork Up on Purpose?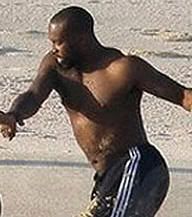 The Baron Davis project with the Clippers has not exactly started off as planned. Baron began feuding with coach Mike Dunleavy about the team's extensive playbook and regimented style mere weeks into the season. Through 20 games, the team is 4-16 and the prospects are grim. To make matters worse, Davis was the team's marquee addition in the off-season. Problem is the guy packed on some pounds over the summer for endorsement purposes, we're told. Yes, the guy became a Jenny Craig spokesperson and had to plump up for the part.
I buy the story because I've seen how much weight Baron gained and he's confirmed the endorsement. But you have to wonder why the guy would willingly put his play on the court in jeopardy by gaining the weight. It shouldn't be about the money considering he signed a $62.5 million contract. Maybe he's like Sean Avery and just trying to cross over into the female brand. Maybe becoming a household name amongst the Oprah Winfrey crowd is more important to Baron than gaining the respect of his peers, the fans, and the media. At least the guy is back closer to playing shape these days. Only four more years of this for the Clips!