Byron Houston Really Likes Jacking it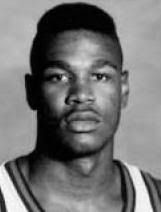 This has to be one of the best stories I've come across in quite some time. Inspired by Eddie Griffin, former Oklahoma State basketball star and four-year NBA veteran, Byron Houston, decided the middle of the intersection would be the perfect place to fulfill his manly needs.
A woman called police around 5:45 p.m. Wednesday to report that a man was masturbating at an intersection in northwestern Oklahoma City, police Master Sgt. Gary Knight said. Officers found Houston in the driver's seat of a vehicle with his underwear on the floorboard, and the woman positively identified him, Knight said.

Houston was arrested on counts of indecent exposure, engaging in a lewd act and driving with a canceled license. He was held at the Oklahoma County Jail on $4,000 bond. The district attorney's office had not filed charges Thursday.
Worst part of the story possibly, is that Houston has a history of indecent exposure. Apparently he pleaded guilty to three counts of it in 2003, and he's also a registered petter-asser. Nicely done Byron, nicely done.