Chris Paul refuses to waive his $44 million contract option to facilitate trade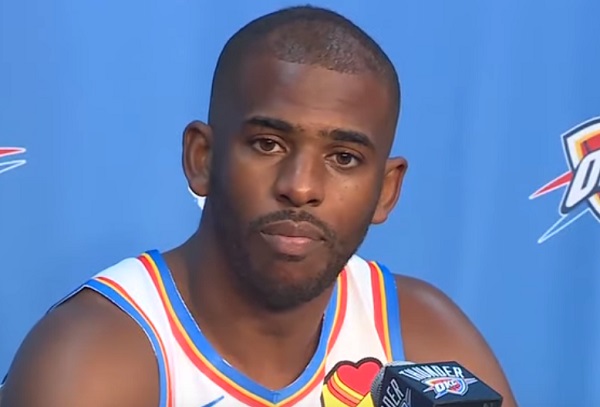 The trade of Chris Paul to the Oklahoma City Thunder this summer was one of the more surprising moves of the offseason. What's even more surprising is that CP3 remains with the Thunder … and the team is winning.
It was known that the Houston Rockets were exploring trades over the summer, including moving CP3. But once OKC dealt both Paul George and Russell Westbrook, the popular belief was that the Thunder were going to tank, and that they had no use for Paul. There were rumors they could trade the point guard to Miami, but no such deal materialized.
Instead, Paul has embraced his time in OKC and helped turn them into a winner.
So why has Paul remained with the Thunder? The 34-year-old point guard is owed $41.3 million next season and has a $44.2 million player option the following year that he will undoubtedly pick up. Teams did not want to be on the hook to pay a 36-year-old point guard $44.2 million in 2021-2022.
If Paul agreed to waive his option, teams would be much more interested in acquiring him, but he refuses to do so.
"No chance. That's not happening. Nope," Paul told SI's Rohan Nadkarni.
Why is Paul so adamant about that? It all has to do with CP3's role as the head of the players' union.
One of the big changes to the Collective Bargaining Agreement between the league and players that Paul pioneered was the change of the over-36 rule. That rule stated that teams could not sign players to four or five-year deals if the player would turn 36-or-older during the course of the contract. This rule was done to prevent teams from making long-term commitments to aging players who would be unlikely to be worth that kind of money at a later age.
Some viewed this as a selfish move by Paul because it would personally benefit him; he was able to guarantee himself $44.2 million at age 36 — a previously unheard of amount. The change would also benefit some of Paul's aging friends, like LeBron James.
Knowing the background of how hard Paul fought for that rule change, it's no surprise that he would refuse to concede his option year, which would be tantamount to proving that the previous rule made sense.