Clippers Are Real Contenders Now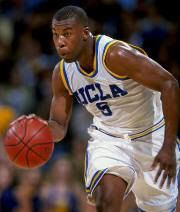 And when I say they're contenders, I don't mean in the sense that they could win a title like the Lakers or Celtics, I mean a contender in the Clipper sense. And the Clipper sense of being a contender means they have a shot at earning a seed as high as fourth possibly, and even reaching the second round of the playoffs. For them, that would be winning a championship. With the news that Baron Davis has reached a verbal agreement to join the Clippers after opting out of the final year of his contract with Golden State, the Clips will have a real team.
It wasn't all that long ago that the Clippers were a legit team. Three years ago, they were easily over .500, and damn near reached the Conference Finals until the freaking monster truck events in Phoenix pushed back Game 6 by like five days, killing the Clips' momentum. It was essentially the same core group; Brand and Kaman dominated the middle, Mobley hit the outisde shots, Sam Cassell was a stud point guard. Swap out Cassell, enter Baron, assume Brand re-signs? This is a legit team again.
I've questioned Baron's desire before, specifically when it pertained to his performance in the Warriors' final shot at making it into the playoffs this year. Now that he's back in LA, he'll have even more reason to party. Thing is though, the pressure won't be on; it's the Clippers — they have no expectations. And even if they do get hyped up, they're still the Clippers no matter what. In summation, that makes this the optimal situation for Baron Davis. Anything positive he does is a bonus, anything negative that happens — blame it on the Clippers being the Clippers. And honestly, Baron, Gordon, Mobley, Brand, and Kaman on the floor together at the same time? They could do some serious damage. Now the health issue, that's an entirely different matter.