David Stern Approves Heat Super Team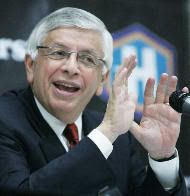 Whether you are among LeBron James' now seemingly loyal few, or air mailing your old "23" jersey to Cleveland to be thrown on the bonfire, there's no doubt that King James has come under some, I'll say, deserved criticisms for the way his free agency culminated. On Monday, James found one carefully phrased criticism pointed in his direction from none other than NBA commisioner David Stern, who was content with LeBron's choice, but called "The Decision" spectacle "ill-conceived." While Stern may think otherwise, he chose wisely to say this:
Our players, having negotiated for the right to be free agents at some point in their career, are totally within their rights to seek employment with any other team. That's something we agreed to. That's something we embrace. That's our system."
Stern also took exception with the now infamous comic sans Dan Gilbert letter lambasting James for his "cowardly" abandonment of Cleveland, which resulted in a $100,000 fine for the franchise. So while it's always interesting to try and guess what David Stern is actually thinking behind his often calculated remarks, there are really no surprises here. It's no good to have your poster child turn heel like a WWE superstar and you can't have owners running around town bashing their former players.
Sources:
Stern says Miami's Big 3 acted within rights [AP/FOX Sports]