Dr. Yao Ming to Receive Honorary Degree from University of Hong Kong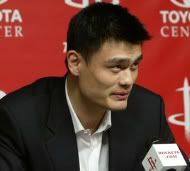 So to answer the age old question: what do Bill Clinton and Yao Ming have in common? They both will be honorary recipients of degrees from the University of Hong Kong for their roles in HIV/AIDS research and advocacy. In case you're wondering how Dr. Ming qualifies, HKU has it described:
Mr Yao has made outstanding contributions in HIV/AIDS advocacy, appearing with Mr Magic Johnson on commercials to support the prevention and treatment of HIV/AIDS, and taking part in various activities on the Mainland, such as visiting children living with the disease. He has helped fight the social and cultural stigma associated with HIV/AIDS with his positive attitude and participation in the prevention and treatment of the disease, and continues to advocate action, care and full integration of people living with HIV/AIDS. In September 2008, Mr Yao was presented with the Award for Outstanding Contributions to the AIDS Response by UNAIDS, the Joint United Nations Programme on HIV/AIDS.
And now he's receiving a doctorate in social sciences. Quite the honor, I must say. It's nice to see Yao get the recognition for all of the wonderful things he does off the court. And in addition to Bill Clinton, Yao now has something in common with Venus Williams and Joe Morgan. Dr. Ming. I think it has a nice ring.