Venus Williams Is a College Graduate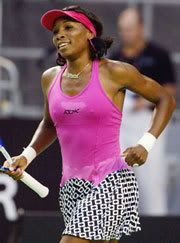 And she would make Van Wilder proud. The super-duper senior will be walking across stage next week following nearly a decade of academic rigors. The reward, Venus Williams is now a college graduate:
Venus Williams will be adding another accomplishment to her long list when she walks across the commencement stage on Thursday, December 13, to receive her associate's degree in Fashion Design from The Art Institute of Fort Lauderdale.

Williams, who has been attending the college since the fall of 1999, has been dedicated to finishing her studies in the midst of Grand Slam, US Open, and Wimbledon wins to receive this long sought after degree.
I do have to say, with her busy agenda, it's impressive that she was able to fit in time to attend classes. Just imagine where her tennis career could have gone without this waning interest. Venus fell off the map for a few years to develop her outside fashion desires. Without them, her tennis legacy could have been much more impressive. Still, I'm sure her sister, father and boyfriend will be proudly cheering her on when she walks across that stage.