Greg Oden's Tonsils Might Keep him out of the Summer League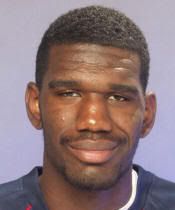 Just in case his stories from World War II had you doubting, the news that Greg Oden has tonsil problems might be enough to remind you that he really is a kid. In fact, he might need to have his tonsils removed, but he must check with his mom first. From Jason Quick at The Oregonian:
A final decision has not been made – Oden said he wanted to consult his mother first – but it appears likely that Oden will fly to Portland late this week for surgery after he finishes presenting an award Wednesday in a taping of the ESPYs in Los Angeles. Recovery for adults who undergo a tonsillectomy is two weeks.

On Monday, I asked Oden to show me his tonsils, and he obliged. I was so startled, I asked him to show me again. His tonsils are so swollen that only a small passage way – about the size of a green grape – was evident.

"I can't even tell you … it just hurts," Oden said "Right now, it's more of a thing that they are so big, that when I'm running up and down the court, it's hard for me to breathe. I can't get any air in there."
So to answer your life-burning question, yes, large people do have large tonsils. Someone get this poor kid an ice cream cone!