Jeff Van Gundy thinks Dwight Howard struck a deal with the Magic front office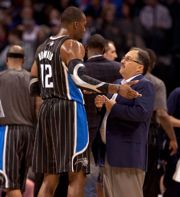 The events that have taken place with Dwight Howard this season have been some of the most bizarre in recent NBA history. One minute, Howard was as good as gone. Whether it was via a trade or leaving in free agency, Magic fans knew they were enjoying their last days with Superman. Then in a moment's notice, Howard was signing an agreement that stated he would not opt out of his contract with Orlando after this season. Not only is he sticking around for this season and possibly beyond, but he may actually re-sign with the Magic.
There has to be more than what meets the eye. One person who believes that is the case is Jeff Van Gundy, who said you'd be naive to think the Magic front office and Howard didn't come to some sort of agreement.
"To me, only the most gullible fans would believe that this was about loyalty," Van Gundy said according to the Orlando Sentinel. "I think it was about power and control. … I don't know what they agreed to, but anybody who doesn't think senior management and Howard have come to an agreement on either trading players to get people he (Dwight) likes or changing the coach or changing the general manager or changing the marketing of him. … Whatever they agreed to, there's been an agreement made.
"What the Magic senior executives are doing right now is unbecoming. The groveling and begging is hard to read and watch. His (Dwight's) opinion should matter, but the strong organizations stand for something rather than fall for anything."
Dwyane Wade certainly agrees with Van Gundy, and I do too. You don't just wake up one morning and decided loyalty is important to you. Dwight had plenty of time to think about loyalty, and it was clear throughout the entire ordeal that he wanted to leave for greener pastures. Obviously Orlando's ownership did something to convince Howard they are going to fertilize their own grass over the offseason.
Photo Credit: Richard Rowe-US PRESSWIRE