Joakim Noah: Nobody Goes to Cleveland on Vacation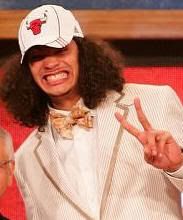 Joakim Noah is quickly establishing himself as an All-NBA talker with his game not far behind. Prior to the start of the Bulls/Cavs playoff series, we noted that Joakim Noah wanted to face the top dogs in the Eastern Conference, calling them the enemy. Noah's feud with LeBron James dated back to their issue in December over LeBron dancing on the court. As if that wasn't enough background, Noah called out the city of Cleveland by saying it sucks. Despite losing to the Cavs a second time on Monday night, Noah wasn't done ripping on Cleveland:
Afterward, the most brazen of the Bulls, said he had no regrets about his comments.

"Not at all," Noah said. "You like it? You think Cleveland's cool? I never heard anybody say I'm going to Cleveland on vacation. What's so good about Cleveland?"
I used to despise Joakim Noah because of his outlandish behavior, weird dancing, and mostly because he helped beat UCLA twice in the Final Four. I even went so far as to call him a bust early on in his rookie year. I couldn't have been more wrong. While Joakim is still running his mouth and not giving a crap, he has stepped up his game and become a devastating big man in Chicago's lineup. Noah is the ultimate villain in the NBA; you love him if he's on your team and hate him if he's an opponent. Now that he's not beating UCLA anymore I finally accept his energy and talent. And of course, his mouth.
Sources:
LeBron's 40 lead Cavs over Bulls [AP Recap]