Klay Thompson cracks funny joke about Steph Curry's foul mouth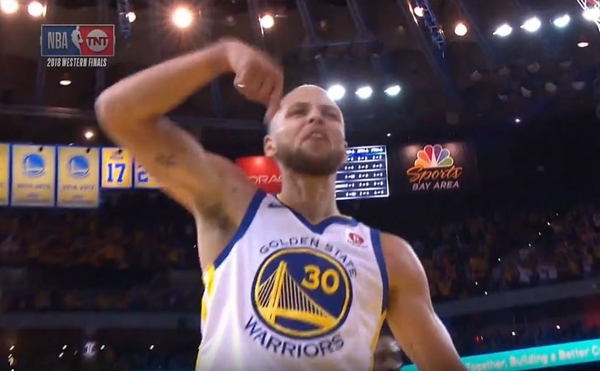 Klay Thompson thinks that his fellow Splash Brother may need to keep things a little more family friendly after Sunday's fiery showing.
Golden State Warriors star Stephen Curry awoke in a big way during Game 3 of the Western Conference Finals against the Houston Rockets, tallying 35 points (including 18 on 7-for-7 shooting in the third quarter alone) to lead the team to a statement 126-85 victory. During one sequence in that smoldering third period, Curry hit a layup in traffic, turned to the Oracle Arena crowd, and boldly declared, "This is my f—ing house."
Steph my f ing house pic.twitter.com/uF5X97IsBV

— arcusD (@_MarcusD2_) May 21, 2018
After the game, Thompson cracked a funny joke about Curry's vulgarity.
"That was funny. I hope Riley didn't see it," he said in reference to Steph's five-year-old daughter, per NBC Sports Bay Area. "It got Oracle pretty fired up. That's a rare occurrence. I've never really seen Steph use that language, but that's what the playoffs bring out of you. Don't do that at home, kids. It's just once in awhile."
As a matter of fact, Riley was actually in attendance for Sunday's game and was seen in the stands getting hyped for her father as he cooked on the court.
Mood #NBAPlayoffs | #DubNation pic.twitter.com/fVQV8qczEP

— NBA on TNT (@NBAonTNT) May 21, 2018
As for Steph himself, he had this to say about the foul-mouthed incident afterwards, according to Connor Letourneau of the San Francisco Chronicle.
Curry on saying Oracle is his "f—- house:" "I blacked out."

— Connor Letourneau (@Con_Chron) May 21, 2018
The viral moment made for a rather drastic change from Game 2 when Curry was mocked on social media for his poor performance, and it's hard to blame him for getting pumped up as he led the Warriors to a 2-1 lead in the series.