Mark Hendrickson Was Not a Good NBA Player
Hey, how bout that? The guy sucks at two sports! OK, OK, fine, the guy is good enough to have been a professional athlete in two different sports — not many people in this world can make such a claim. Yet I can't help but share the pictures passed along to me by my buddy Chris — they're hilarious. I present Dodger pitcher Mark Hendrickson and his stellar NBA career in which he played four years, averaging 3.3 ppg and 2.8 rpg: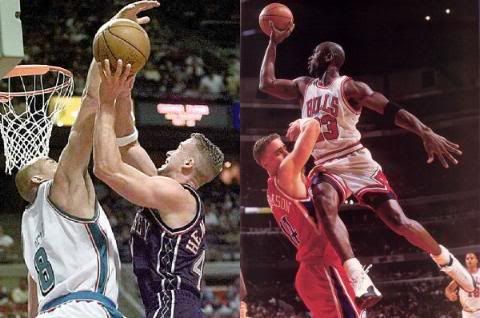 Well, there is no shame in being posterized by Michael Jordan, right? And come on, getting blocked by the late Bison Dele? That's like a historical artifact. So now, I leave the debate up to you. In which sport does Mark Hendrickson suck more is Mark Hendrickson less successful, basketball or baseball? Tough call.