Poor Sport? LeBron Dodges Media After Game 6 Loss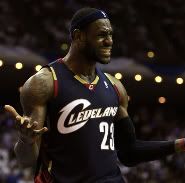 It was only three weeks ago that I was praising LeBron James after he won the MVP award, saying that he handled his business in such a professional and positive way. He treats his teammates and fans well, he respects the media, and seemingly doesn't have any missteps off the court. Well after losing Game 6 to the Magic 103-90 on Saturday night in Orlando, LeBron skipped out of Amway Arena and dodged the media. That disappearing act came after he had already walked off the court without congratulating his opponents. I've already acknowledged that facing the media following season-ending losses is torturous, but when you're a professional athlete, it's part of your job.
I understand where LeBron maybe wanted to avoid saying something he'd regret, the way Dwight Howard did when he called out Stan Van Gundy following a loss to the Celtics. I could see where he'd be frustrated after seeing everything they worked for all season long go down the drain. It's a terrible spot the players are put into but it's part of the job. For LeBron, all the hype and glory he's received is in large part thanks to the media. To skip out on them because he's disappointed, sad, uncertain, or whatever, is poor form. People want to know how he's reacting to the loss, how he handles defeat and disappointment — I certainly did. And if you want all the glory after hitting the game-winning three-pointer to beat the Magic in Game 2, you have to be there to answer the questions about the disappointment when your team gets eliminated from the playoffs. That's really weak on LeBron's part and it makes me look at him differently now.
As for all the LeBron vs. Kobe marketing campaigns? Arash Markazi points out that Vitamin Water has already pulled their ads: