Shaqovich Impressive Again at the Line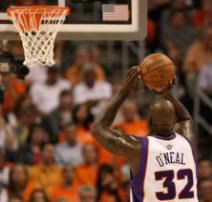 I think I was really just eager to work "Shaqovich" into a post more than anything else. For all of those who haven't yet heard, Shaq gave himself another nickname, the most recent being Shaqovich. The name started when The Big Cactus began draining his free throws at an impressive rate, riding a 12/12 streak earlier in the month. The background for the name:
"If you go around the league, anybody with the last name 'vich' is a great shooter," O'Neal explained. "Radmanovic, Vujacic … all those 'iches.'"

"Rather than sticking with what I know, listening to people and changing my form, I was trying just a little bit too hard," O'Neal said. "Now I'm just shooting it the way I was taught to shoot a long, long time ago."

O'Neal said that part of the motivation for the change was his pursuit of history. The man who always went by the credo that he makes them "when they count" has realized that every "easy bucket" counts when you're trying to become one of the NBA's all-time leading scorers.
Shaq was 9/10 at the line against the Wizards, scoring 29 points Monday night. You have to figure the old Shaq would have cost himself four points going 5/10 at the line for only 25 points; he's really starting to learn how important those extra points are. Crazy what some motivation can do for you. He's at 62% for the year, his best in like eight seasons. And he's doing this while expressing unusual compassion for his opponents!
(photo via Love Soft Rims)