Tim Donaghy's Book: Refs Fix Games, Hate Allen Iverson and Raja Bell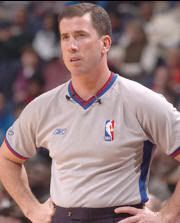 We've already established that Tim Donaghy is a crooked person who bet on NBA games that he officiated and fixed. Since he's already been to jail to serve his time and the league never backed him up, he's out for payback in the worst way possible: he's written a book about the officiating corruption in the league that names names and cites specific examples. Although the book doesn't have a publisher currently, excerpts have reached Deadspin and they're here for our perusal.
First, here are some of the facts. We've already recognized that Donaghy was perfect at moving the spread and delivering. Additionally, one of the games we pinpointed as one he fixed even was mentioned in his excerpt. He even said the reason the free throw disparity favored the Knicks so greatly was that one of the officials was super friendly with Isiah Thomas. Makes sense. Anyway, more on the specifics from the book.
Donaghy specifically states that stars got preferential treatment and that lesser-known players like Raja Bell, who was a defensive stopper, got fouls called against him so he couldn't shut down the stars as well. He also says that Allen Iverson was given a tough time by referees after he criticized Steve Javie. Donaghy specifically names referees and what their motivation was. The strongest charge was against Dick Bavetta, whom Donaghy called a company man that manipulated games and playoff series including the 2002 Western Conference Finals between the Lakers and Kings. Tim also said that referee Tommy Nunez did everything he could to fix the Suns/Spurs '07 Western Conference playoff series in favor of San Antonio. The Spurs of course went on to win the NBA Finals.
More Tim Donaghy on LBS:
Tim Donaghy's Bookies Were Only Mob Wanna-Be's
Games Fixed by Tim Donaghy
Tim Donaghy Was Beat Up in Prison