Tim Donaghy Was Beat Up in Prison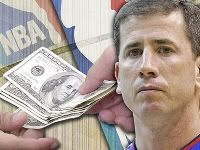 Man, when was the last time you heard the name Tim Donaghy? The "disgraced" former NBA referee as he's typically called by the media, was found guilty of betting on games he reffed and fixed, and sentenced to a long term in prison. Initially we were told he was only dealing with small-time crooks, just some former high school classmates. Apparently prison is no place for someone only into small time stuff, no surprise. Check out this tidbit about Donaghy who's set to be released in a week:
Former NBA referee Tim Donaghy will be released from prison on June 17, 2009. Donaghy, convicted for betting on professional basketball is serving a 15-month sentence at the federal prison camp in Pensacola, Florida. Donaghy's release date has recently been in question due to concerns about his medical condition. Donaghy was injured during an assault in November of 2008. During the assault, another inmate claiming ties to the New York mob beat Donaghy with a heavy object. Donaghy suffered severe knee and leg injuries that will require surgery. Donaghy will complete his prison term at a halfway house in Tampa Florida.
How's that for some role reversal? Donaghy's messing with gamblers and fixing games, yet he's the one who gets his legs broken (OK, just assaulted) while in prison. Not mentioned in the press release is that he later got traded for five chocolate milks and six packs of cigarettes whose brand was to be named later. Minimum security white collar luxury resort my ass.
(via Ben Maller, of course)