What is Shaq's Problem?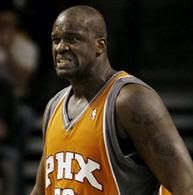 Honestly, I don't get this guy. Maybe he's like Gary Sheffield or something where he always needs an enemy as motivation to stay focused. Because for some reason Shaq can't be traded to a new team without getting in some parting shots on his old team. That's why I don't understand how the dude got off these completely unprovoked words towards his former team:
"I love playing for this coach and I love playing with these guys. We have professionals who know what to do. No one is asking me to play with Chris Quinn or Ricky Davis. I'm actually on a team again."
Was that really necessary, Shaq? Pat Riley, who is about the last person I'd be defending at this point, actually is justified in calling it sad that Shaq is still attacking the Heat. I would completely agree. Jorge Sedano at 790 The Ticket in Miami says Shaq is the handles breakups more unprofessionally than any other athlete. I might have to agree.
This is the same Shaq whose first words upon receiving the NBA championship trophy with Miami was to rave about Riley, calling him the best coach he's ever had — a blatant slap in the face of Phil Jackson. It makes you wonder why Shaq would use such a great, beautiful stage to bring down someone from his past rather than just talk about the present. These comments were yet another example of Shaq making unprovoked attacks that only make him look bad. Honestly Shaq, just keep it to yourself, we're tired of this business already.