Cotto Crushed Zab, Fight of the Year?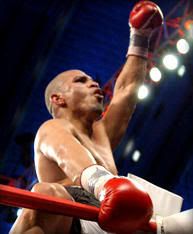 That's how it's already being billed, by both Dan Rafael of ESPN and Doug Fischer of Maxboxing. My man Super Judah got his ass kicked by Miguel Cotto, suffering a knock down in the 11th, followed by a TKO shortly thereafter. In fact, Cotto hurt Zab so bad in the fight, that Judah had to take a knee in the eight round — literally. He went down in the eighth to avoid more punishment, receiving an eight-count from the ref before stepping back up. Rafael describes more of the beat-down:
By the 10th round, Judah was bleeding from a cut over his right eye and being wobbled regularly. Cotto hurt him with an uppercut that sent him retreating to the ropes. But Judah stayed upright and pounded his chest at Cotto.

Early in the 11th, Cotto nailed him with a combination and Judah went down again. He managed to get to his feet, but Cotto could sense the end. He attacked Judah, turning him sideways along the ropes as he continued to fire. That forced referee Arthur Mercante Jr. to stop the fight, sending the crowd — the Garden's largest for a fight since the 1999 Lennox Lewis-Evander Holyfield heavyweight championship — into bedlam.
That's 25 KOs in 30 fights (all wins) for Cotto. And the two drew quite some numbers, largely because of Cotto's Puerto Rican following, and Judah's Brooklyn roots. Cotto's impressive record and punching power makes him a perfect candidate to take on Pretty Boy Floyd Mayweather Jr. That would be a fantastic fight getting me as amped as I was to see Mayweather take on De La Hoya. Unfortunately as Kevin Iole describes it at Yahoo! Sports, the fight's unlikely to happen. Why should Mayweather risk a beating for a smaller pay day? It's just not worth the risk for him. Of course if boxing fans had their way, Pretty Boy would do it to please the minions. And that would be just lovely by me.
(photo credit Maxboxing)