Floyd Mayweather Jr: 'Oscar De La Hoya, **** You. I Don't Like You'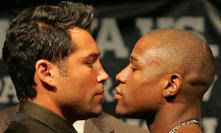 Funny thing how I was recently pointing out Pretty Boy's interview with The Grand Rapids Press where he called out HBO for being racist and having double standards when it comes to criticism of athletes versus announcers. Well apparently Floyd's liberation of lashing out didn't just stop with HBO — he also called out Oscar De La Hoya in a 45-minute documentary that premiered at his retirement party:
"Oscar De La Hoya, (expletive) you and (expletive) everything you stand for. I don't like you, you don't like me," Mayweather said in the film.
Good thing Mayweather says he's nearly a billionaire because at the rate he's going, he's not going to have any opponents to fight, promoters to work with, nor TV networks to show a possible coming out of retirement fight. I just hope Pretty Boy doesn't back down from his comments and say something stupid like he was just free style rapping because he's certainly burning any bridge built for him.