If Manny Pacquiao Weren't Guilty, He Wouldn't Have Anything to Hide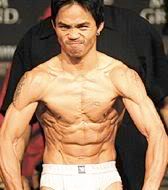 Maybe things happened too quickly creating a "too good to be true" scenario in boxing. After all, organizing a fight and getting two high-profile individuals to agree to contract terms is one of the most complex processes in sports. Despite all that, Manny Pacquiao and Floyd Mayweather Jr. supposedly had agreed to fight mid March in Las Vegas until a matter of drug testing came in the way.
Floyd's father accused Pacquiao of using steroids and/or supplements in an interview a few months ago and it looks like he was right on. Mayweather's camp wants both fighters to submit to Olympic-style WADA drug testing prior to the fight, which is more stringent than drug testing outlined by the Nevada Gaming Commission. Pacquiao only wants to submit to drug testing prior to the media kickoff tour of the fight and after the fight. It does not take a genius to figure out that the lapse between tests is plenty of time to do a cycle of drugs.
The excuses coming from Pacquiao's side are pathetic. Trainer Freddie Roach says the request proves Mayweather is scared. Promoter Bob Arum says Floyd is just harassing Pacquiao because he knows Manny feels weakened by giving blood. There's no doubt that Floyd recognizes the talent of Pacquiao and that he's in danger of losing. Even with that being the case, there's nothing wrong with requesting stringent drug testing for the fight. The retort by Arum is pathetic and offbase. It's clear he's just trying to spin the issue but he doesn't have much ammunition in this argument. The undeniable bottom line is that Pacquiao would not have anything to hide if he weren't doing anything wrong. What's so hard about Manny agreeing to random drug tests during his training? There shouldn't be anything wrong with it as far as I can tell. Maybe there's a lot more to Pacquiao's story that helps explain his late career surge.