BCS Computers Need to Go
OK, either the computers need to go, or the people programming them need to go. Or they seriously need fixing. I just prefer to eliminate them completely since I'm into the dramatic. I won't even bother getting too complex for you; I'll keep this simple. Just check out where USC is ranked by the computers. I'll only show the top 15 for our purposes: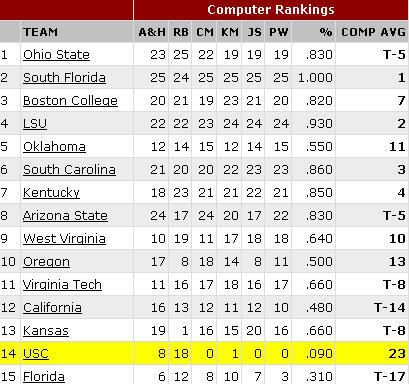 You see all those zeros? You know what that means? They mean that those computers don't have USC ranked in the Top 25. So I ask you, how is it possible that three ranking systems in the country don't have USC included in their Top 25? What the eff kind of system is this that we're dealing with? I don't think I want to be a part of a system that doesn't have what clearly is one of the better teams in the country ranked amongst the Top 25. It's absolute horse manure.