Chad Henne's Trying to Be a Jerk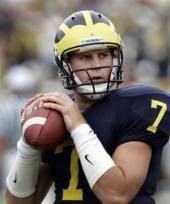 It was noted here last week that the Michigan football players showed their confidence in 4th year quarterback Chad Henne by passing him over as a captain. As a result, Henne has decided he needs to change his attitude — piss some people off. The QB told The Detroit News that he's learning to be a jerk to his teammates on the field.
It isn't Chad Henne's nature to be an in-your-face force. But to evolve as a leader, he had to alter his demeanor.

If that meant ruffling some feathers, so be it.

"It's kind of like being a (jerk) at all times when we're practicing," said Henne, Michigan's four-year starter at quarterback. "If you're not being a (jerk) to them, it's not like they won't respect you, but it's a different look in their eyes — that, 'OK, we're here to concentrate, we're here to focus and we're here to play hard all the time.'

"If you're laid-back and letting it go sometimes and then be a (jerk) other times, it's tough. So you have to always be on those guys to get the best out of them."
Any wonder why they passed him over as a captain? Who the hell really likes a jerk anyways? Like they say, sometimes the truly great people have to walk alone in life. Henne may not be great, but he may be walking alone.
(via Ben Maller)