Is 0-8 a Reality?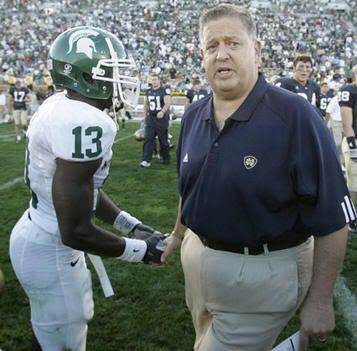 Forgive me while I get all giddy here. But now that the loss to Michigan State is out of the way, it really seems possible that Notre Dame starts the year 0-8. I got really excited after the first week when ND got smashed by Georgia Tech. Unfortunately for you Charlie, Lloyd Carr isn't here to bail you out this time.
Honestly, was there any game that appeared more win-able for Notre Dame than this one? Home against Michigan St., which is arguably the weakest of the first eight teams on the Domer schedule. They're not beating Purdue or UCLA on the road at this point, so 0-6 looks pretty solid. Then home to a juggernaut like BC, and a national title contender like USC? I'm really starting to think 0-8 is possible.
Heck, the way Notre Dame is going, beating Navy doesn't seem like much of a guarantee. Could we be seeing 0-9? Ladies and gentlemen, brace yourselves. We are in the midst of seeing history unfold before your very eyes. This is priceless!
(AP Photo/Michael Conroy)