Michael Michaels Is as Crooked as a Reggie Bush Punt Return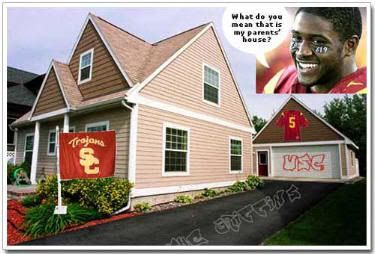 Image courtesy Bevo Sports
For as much crap as Reggie Bush has taken over the scandals he created upon leaving USC for the NFL, I truly believe Michael Michaels is the real crook here. Here you have a guy who was trying to make it on the sports agent/sports marketing scene by throwing a ton of cash and perks Reggie Bush's way. No question Bush wouldn't have been the first athlete to illegally receive gifts and bribes from agents and marketers while in school — not as if that makes it OK — but he's not the one who cried out to the public as soon as the deal went sour.
That is so wrong in so many ways. You're trying to illegally persuade a top-notch client to join your business — and when he doesn't — you try to solve it in a court room?
The former landlord for Reggie Bush's parents in Spring Valley has reached an undisclosed settlement agreement with the Bush family for alleged unpaid rent and other losses in a case still under investigation by the NCAA.

Michael Michaels alleged last year that Bush's parents lived rent-free in his house for a year while Bush was at USC, with the understanding that Bush would be a centerpiece in Michaels' fledgling marketing agency after he turned pro.
So no, I do not condone Reggie Bush and/or his family accepting gifts while Reggie was playing at USC, but Michael Michaels is far worse. By the way, what a sound recruiting strategy. Imagine how many other prospective clients will want to sign with Michaels now that they know should their business dealings go wrong, they could wind up going to court? What a fantastic approach!