Oregon Fans Are Rick Neuheisel Haters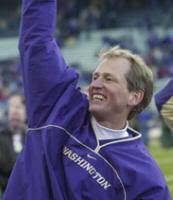 The win for Oregon over UCLA must have been extra sweet for the fans who have all sorts of distaste for Bruins coach Rick Neuheisel. Apparently the hatred dates back to two events. The first was a fake punt run by Neuheisel's team in the 4th quarter of the '96 Cotton Bowl when his team already had a three touchdown lead. The second was when Slick Rick's Washington team danced at the Oregon "O" at midfield following a 42-14 win. As a result, Oregon fans were fired up about giving it to Neuheisel this weekend:
A man outside the stadium Saturday was selling "Neuheisel [stinks]; Go Ducks" T-shirts. Fans, including kids, heckled Neuheisel the moment he popped his head out of the locker room for warmups.

"We just hate him," said John Conrad, a resident of North Bend, Ore. "We never really hated Washington that much before Neuheisel coached there. It's a long feud."
…
"His expressions, his nerve, his ego, his attitude, I just don't like him," said Myrtle Brech, a 70-year-old grandmother from Creswell, Ore. "Just the look on his face, you can tell he thinks he's better than everyone else."
It's incredible; I never knew that I could share the same thoughts as a 70-year-old grandmother! I think she summed up in words exactly what I don't like about Neuheisel. At least she only deals with him once a year, but as my coach, I have to deal with that all year long. I guess the only thing I can hope for is some quick turnarounds with the program because nobody can argue with winning. And luckily for the Ducks their play on the field did the talking.