Beckham Teaches Snoops Kids Soccer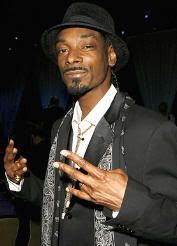 Usually I like to stay Beckham-free around here, specifically when talking about the plastic puppet they call Posh, but this news is cause for our attention. We all have heard about stars providing lessons for other celebrities, usually at a large cost. Fitting right in as Ben Maller points out, Snoop asked his homie David Beckham to teach his kids how to play soccer. Said Snoop,
"David and I go back years. I asked him to come over and do me this favour as he is the one who has made everyone wake up and pay attention to soccer over here.

"He is terrific with my kids and they had a great time as he taught them how to shoot and score the perfect goal. That's a partnership you never thought you would see – Snoop and Beckham." And Snoop – real name Calvin Broadus – is so grateful to Beckham for teaching his kids Corde, Cordell, and Cori the basics of soccer, he has offered to return the favour and give young Brooklyn, Romeo and Cruz lessons in lyricism.
You know, I thought I had seen some odd couples in my time, but this one might top the list. The surprising thing is that Beckham's presence in the U.S. has actually impacted someone's life here. Who knew?