Seth Meyers Hosts the ESPYs … Really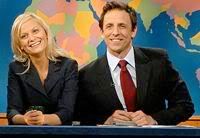 So ESPN selected Seth Meyers to host the ESPY Awards 2010 … really. Because so many athletes don't have games on Saturday nights nor are they out partying so they must all be familiar with Meyers … really. As a sports fan, you probably are wondering to yourself who this Seth Meyers guy is. Well, he's a dude who's from New Hampshire and apparently is a big Red Sox Fan. If you're like me and unfamiliar with Meyers, he hosts the weekend update on Saturday Night Live along with Amy Poehler. He's got some funny jokes and a pretty good delivery, but his job was made even more difficult because he had to host the show while it was live instead of tape delayed.
Meyers actually killed the monologue, getting more and more laughs as he went on. Meyers started off somewhat slowly, going after Shaun White whose coach was caught cussing on TV during the Olympics. After his start with White, Meyers rotated into the comfort zone of Brett Favre old jokes. The Favre jokes were pretty ordinary and you could tell that Deanna didn't find them very funny. Luckily Meyers moved onto Tim Tebow to ease the tension. After a jersey-selling, Jesus joke, Meyers started to get his groove.
ESPN televising the LeBron decision became a hot topic which later was spoofed by Steve Carell and Paul Rudd. The LeBron decision was an easy target, but Meyers' jokes weren't anything special, and they resulted in some unamused faces from ESPN personalities Erin Andrews and Stuart Scott. When Meyers transitioned to the Lakers and eventually the World Cup, he started tearing it up. Meyers had an outstanding bit about Pau Gasol's European look, cracking on Pau's neck beard (not his man-purse), saying that we didn't need any more reminders that Gasol was a Euro. It was towards the end of the Lakers bit that Meyers threw in what might have been his best line of the night, saying that the ESPYs are where sports and entertainment come together … like a Kardashian sister's bedroom. That joke may have drawn the loudest roars from the crowd and was hilarious.
Meyers followed up his roll on the Lakers with a slew of good jokes regarding the World Cup. Meyers made fun of the vuvuzelas, North Korea's censorship, and he had an excellent bit suggesting that the Germans plotted to have Paul the Octopus correctly pick all the games. The only shaky moment Meyers had was when he slipped in a Greg Oden joke talking about the Isner/Mahut tennis match, "The match was so long Oden had time to take a picture." Meyers heard crickets initially, but luckily recovered with a trusty Cheech and Chong grass joke. All in all, Meyers killed it. He had some excellent initial reactions on twitter: