Articles tagged:

2010 ESPYs
The 2010 ESPY's produced some memorable moments on Wednesday night, led by host Seth Meyers' hilarious opening monologue.
Seth Meyers nailed it as the host of the 2010 ESPY's. His opening monologue started off slowly but really picked up steam as he went along.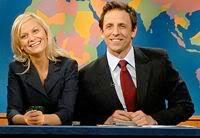 So ESPN selected Seth Meyers to host the ESPY Awards 2010 … really.