Aaron Jones had funny reaction to receiving taunting fine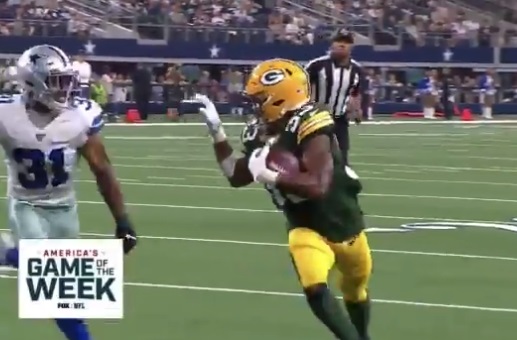 Green Bay Packers running back Aaron Jones received a fine for taunting Dallas Cowboys cornerback Byron Jones during his huge game last week. While it may not have been worth it, he does seem to have enjoyed it.
The running back mockingly waved to Byron Jones as he headed into the end zone on Sunday, and the NFL fined him $10,527 for his actions. While he didn't exactly think it was worth the cost, he did get something beneficial out of it.
Aaron Jones said he got fined $10,527 for "taunting" Cowboys cornerback Byron Jones on his wave goodbye on his touchdown. "I can't say it's worth it, but it's a dope picture," Aaron Jones said. "I'm going to have that blown up." He said he didn't get… https://t.co/VeUCejtLMb

— Rob Demovsky (@RobDemovsky) October 11, 2019
Jones ran for 107 yards and scored four touchdowns against the Cowboys. A few more performances like that and he won't be missing $10,000.