Aaron Jones trolls Cowboys, Byron Jones with wave on touchdown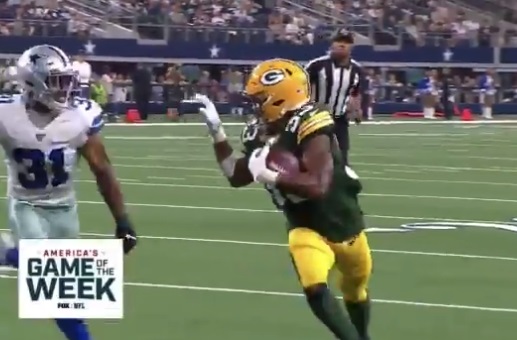 Aaron Jones didn't just put up a huge game against the Dallas Cowboys on Sunday. He decided to rub it in as well.
Jones scored three touchdowns in the first 2.5 quarters of the game to give his Green Bay Packers a 24-0 lead midway through the third quarter. As the Packers running back turned the corner for a 5-yard touchdown in the third, he trolled Cowboys cornerback Byron Jones with a wave:
Aaron Jones waves at Byron Jones as he runs past him and into the end zone lmao pic.twitter.com/ILy5KVbANm

— Sam Cooper (@SamDCooper) October 6, 2019
That's impressive. The guy can turn the corner and wave at the same time — and he didn't even fumble.
Jones had 10 carries for 71 yards and three touchdowns on the ground to that point, as well as six catches for 68 yards.