Army Completely Mishandling Caleb Campbell Situation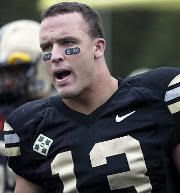 Caleb Campbell is a strong safety who played at Army and attended West Point. He was a 7th round pick by the Lions in this year's draft, and was set to begin the team's training camp this week in hopes of earning a roster spot. Initially the Army said they would release Campbell from the typical two years service all West Point Cadets must perform following graduation and allow him to play professional football. Campbell's responsibility was to act as a local recruiter for the Army while he was playing — a logical trade. But on the eve leading up to training camp, the Army said Campbell (as well as two Cadets selected in the MLB draft) must serve their Army duties instead of playing pro ball. Ordinarily a sound response would be to say that the guy signed up for this and knew exactly what he was getting into; he should fulfill his duties like everyone else. However, when you find out what the Army is using Campbell for, you really see that they're completely mishandling the whole thing.
Campbell told The Monty Show on Sporting News Radio that he'll be returning to West Point to serve as a graduate assistant on the school's football team. How about that? Is he going to Iraq or Afghanistan? Will he be serving as an officer? Will he be assisting the U.S. military? No, no, no, and no. The Army will be using Caleb Campbell to coach football. Got that? Instead of letting him play professional football — a chance for the Army to be promoted every time he stepped on the field — they decided his time was better served coaching a team that's won 17 games this decade. An organization that spends millions to sponsor a car in NASCAR's Sprint Cup Series spit on an opportunity to earn tons of free publicity to all NFL fans in the form of Caleb Campbell playing for the Lions. Honestly, what the eff are they thinking? They change a rule with horrendous timing for a lame-brain reason like this? Then again, should we really expect anything less from the government?