Giants Super Bowl Rings Revealed
I'm often fascinated by the jewelry the players receive for winning championships. After all, when people talk about "how many rings" a player has, we're not just talking about something figurative, but a literal item of jewelry. I remember being somewhat disappointed by the Colts' Super Bowl ring last year. Unfortunately I share the same feelings for the Giants' rings.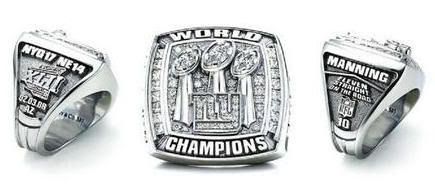 The Giants ring was actually manufactured by Tiffany's, where as most rings are done by Jostens. As for some of the specs:
the top of the white-gold ring will feature three Lombardi trophies — one for each of the franchise's Super Bowl titles — as well as the "NY" logo and the words "World Champions." On the side, below the individual player's name, the words "eleven straight on the road" will reference the team's NFL-record road winning streak. On the other side will be the SB XLII logo and the final score.
I think what the ring is missing is some color. Maybe some blue and red for the Giants colors on the NY would have done the trick. Still, I'm not going to pretend like myself or any Giants fans wouldn't love to get their hands on it.