Jessica Simpson/Tony Romo Back on?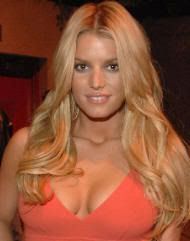 All those football fans who think they have it made, please step forward. Not so fast, Cowboy fan! That's right, I know you were all celebrating after hearing the news that the two had called it quits. Even with that news, Tony still kept his promise to Chestica and accompanied her to sister Ashlee's wedding recently. And now the reports are saying Romo's open to getting back with Chestica, so long as her papa Joe is punted out of the picture:
Jessica Simpson and Tony Romo are back "on," but a college pal of the Dallas Cowboys quarterback tells me it's Romo who's calling all the plays.
…
My source says Romo has told Jessica their renewed relationship is "a trial thing," dependent on Daddy Joe "leaving them alone" and stifling his tendency to tell Romo how to run his life, career and endorsement deals.
On again, off again, on again, off again. This saga is almost as bad as T.O. and the pill overdose. Almost. Either way, I still say Romo should just get back with Sophia Bush if he's tired of Jessica's dad. Sophia's so hot I sat through John Tucker Must Die. Twice. And enjoyed it.