Jon Kitna Is Smoking the Good Stuff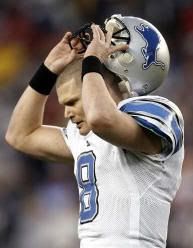 See, I just can't help myself when I read comments like this. Not to discourage the Detroit Lions or anything, but I just don't have a lot of confidence in them. And this isn't the first time a Lion got carried away — Roy Williams did it last year — and that's fine. They should have confidence, they should believe in themselves. But they also need to be realistic. And Jon Kitna is not. He predicted in March that the Lions would win 10 games. Now, he thinks the future is even brighter:
"See, that was 10 games before I saw the schedule, too," the quarterback told WDFN-AM (1130) this week. "I'll keep to myself what I think we actually will win. But it's more than 10 games."
…
"I don't like putting a lot of pressure on people, but Calvin Johnson, to me, will have about the same impact that Reggie Bush had in New Orleans," Kitna said. "He's everything that they said he was and more. … I mean he's 235 (pounds), runs a 4.3 (40-yard dash), he's got tennis rackets for hands. …"
Tennis rackets for hands? Since when is that a compliment for a receiver? It's nice to have that type of confidence entering a season, but I'll skate on the conservative side with my prediction. Smart money says the Lions will win six games this year. But hey, Kitna, more than 10 games? More power to ya, my man.