Kim Kardashian Already Planning Her Wedding with Reggie Bush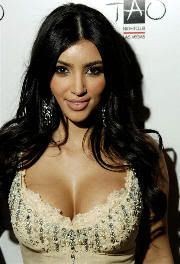 At last check, Kim Kardashian was already talking about getting married to Reggie Bush. The latest update in their relationship is pretty humorous considering Bush hasn't even proposed to her, at least to the best of our knowledge. Still, that hasn't stopped Kardashian from apparently beginning to plan her wedding:
"I was in Vegas last weekend for a bachelorette party and saw how hectic it is to plan a wedding, so I've decided to start planning mine before being asked!" Kim tells In Touch. A close friend of the couple, who have been dating for more than a year, reveals that Kim, 27, and Reggie, 23, will eventually tie the knot. "They're in love, but football practice is starting — so no wedding bells for at least six months to a year."
So, would this like be the equivalent of filming a Patriots 19-0 Perfectville commercial before they've actually won the Super Bowl? Maybe she's acting a little too swiftly here, especially considering Bush isn't too happy with the weight Kardassian's been putting on lately.