Marshall Faulk Hating on Steven Jackson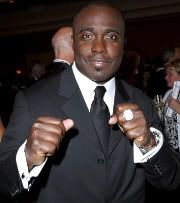 As far as I had always heard things, the relationship between Rams running back Steven Jackson, and the man he eventually replaced at the same position, Marshall Faulk, was a good one. I remember hearing stuff about Faulk serving as a mentor to Jackson, even though Jackson was drafted in the first round to share time with Faulk and take the starting role. That must have been all P.C. stuff because apparently that's far from the truth. Faulk sure made it seem like there are still hard feeling between himself and Steven Jackson when he joined The Monty Show on Sporting News Radio. Asked if he was surprised Jackson's holding out, he said:
"I am surprised he's holding out. I don't know where he's getting his advice. He's played four years and he's played every game once and he's been hurt three times. I know if I was in the front office, even if it wasn't Steven, even if it was someone else on another team, it would be hard for me to justify giving them a lot of money, regardless if he was 'the team'."
Marshall does qualify the statement by saying he'd have a hard time paying any player who's holding out. That's somewhat interesting to me because I've read that Faulk once held out himself. But Faulk took his comments to a more personal level. Talking about Steven Jackson running in Faulk's shadow he said:
"It's just unfortunate that sometimes — and it's happened to a lot of great players — when they play behind a player that had length and longetivity, and did it well in a way that people respect, they sometimes don't know how to deal with it. They don't know where to take it. And that's one of those situations [where] he's trying to carve a niche for himself and he wants that to be so different from me that he's doing a lot of things that I didn't do, but those are the things I didn't do because you don't need to, not because I didn't want to."
Think Faulk's not too happy with the way his career ended in St. Louis? I'd say so. The one thing is I side with Steven Jackson and almost all running backs who hold out for more money. These guys take the most pounding out of any position in the game and have the shortest shelf life. 300 carries in a season and you're done. Knee injuries, foot injuries, all sorts of leg injuries ruin their careers. I'm all for running backs holding out to get paid; they have to get their money before it's too late. And I can't believe that Marshall wouldn't be on the side of the running back considering he did play the position.