Why Mike McCarthy is the right hire for the Cowboys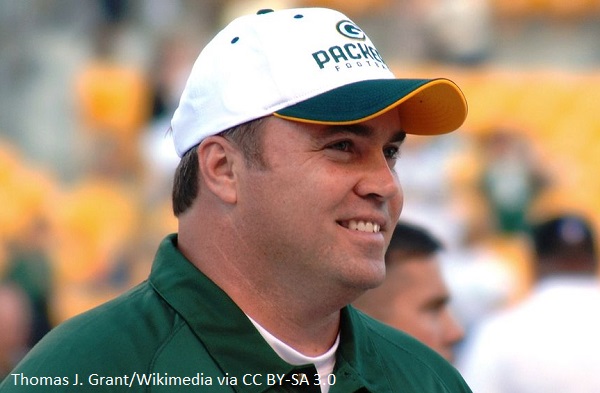 The Dallas Cowboys interviewed only one candidate other than Mike McCarthy for their head coaching job, and it would appear they knew who they were hiring from the moment they decided to move on from Jason Garrett. When you look at the overall picture, it's not hard to see why.
McCarthy took a year off from coaching after he was fired by the Green Bay Packers with four games remaining in 2018. His relationship with Aaron Rodgers appeared to deteriorate over McCarthy's final two years in Green Bay, and that was the main reason the Packers decided to part ways with him. If the team focused more on McCarthy's overall body of work, he would probably still be coaching at Lambeau Field.
In 12-plus seasons with the Packers, McCarthy was 125-77-2 in the regular season and 10-8 in the playoffs. He took the team to the postseason nine times, won a Super Bowl in 2010, and reached the NFC Championship Game four times. Coaches with far worse resumes (cough, Marvin Lewis, cough) have managed to keep their jobs for mind-boggling lengths of time.
McCarthy was with the Packers when they made the awkward transition from Brett Favre to Rodgers, and the coach helped Rodgers become a star. The Cowboys are hoping MccArthy can do the same with Dak Prescott, which is likely one of the biggest reasons they hired him.
McCarthy and Rodgers clashed over playcalling not long before McCarthy was let go. But the true issues may have been more about a depleted supporting cast and a two-time NFL MVP's whose ego became difficult to handle.
Rodgers was openly irritated with some of the moves Green Bay's front office made prior to the 2018 season, most notably releasing his favorite receiver and good friend, Jordy Nelson. He also seemed bothered by the Packers letting former quarterbacks coach Alex Van Pelt go without consulting him first. Unless you believe McCarthy was the sole person responsible for those moves, it looks in hindsight like the coach took the fall after a franchise quarterback became generally unhappy with his team's direction.
The numbers show why Rodgers was upset about losing Nelson. Some of his best seasons were Nelson's best seasons, including in 2016 when Nelson caught 97 passes for 1,257 yards and 14 touchdowns. Rodgers threw for 4,428 yards, 40 touchdowns and seven interceptions that year. Nelson then played in only seven games in 2017 after breaking his collarbone, and things went south in 2018 before McCarthy was axed.
However, replacing McCarthy with young offensive mind Matt LaFleur has hardly been a magical fix for Rodgers and the Packers — at least in terms of offensive statistics. When you compare the quarterback's numbers from 2018 and this season, they are extremely similar. Rodgers completed 62.3 percent of his passes for 4,442 yards, 25 touchdowns and two interceptions in McCarthy's final year with the team. In LaFleur's first season this year, Rodgers had a 62.0 completion percentage with 4,002 yards, 26 touchdowns and four picks. The Packers are in the playoffs and could make all of that irrelevant with a championship run, but the point is their issues under McCarthy seemed to run a lot deeper than the head coach.
Outside of Davante Adams, who missed some time this year with an injury, Rodgers doesn't have many trusted targets. Tight end Jimmy Graham is nowhere near the player he used to be, and Marquez Valdes-Scantling, Geronimo Allison and rookie Allen Lazard combined for just 95 catches this season. Rodgers reportedly had some serious issues with Valdes-Scantling last year, and their chemistry did not improve in 2019.
The point is this: if you look at the reason why the Packers fired McCarthy, the way Rodgers felt about him was almost certainly at or near the top of the list. Rodgers may have grown tired of McCarthy, but that doesn't change that Mike is a good coach who got solid results in Green Bay. In Dallas, McCarthy will be inheriting an incredibly talented roster. If Rodgers went out and had an MVP season this year with a new coach, that would have reflected poorly on McCarthy. That did not happen, which is not a coincidence. The Cowboys likely looked at that and saw an experienced coach with a winning record who was 7-3 against them during his time in Green Bay.
McCarthy was the right hire.