Niners Starting Chris Weinke, Yikes!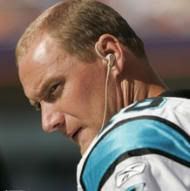 I had my share of fun with the Panthers when they brought Vinny Testaverde in to play QB. Now, the Niners have completed the circle of embarrassment by naming Chris Weinke their starter this week. (Note: if I were around, I most certainly would have hammered the Rams for going with Brock Berlin). This is quite a commentary on the state of quarterbacks in the NFL. In fact, it only speaks to the legacy of Brett Favre, Peyton Manning, Tom Brady and the few other quarterbacks who never miss a game. Not only is there a shortage on good quarterbacks, but the violent nature of the game isn't helping matters either.
So can we just chalk up an extra mark in the loss column for the Niners already or what? Weinke-dinky-doo is what, like 2-17 in his career as a starting quarterback? If I'm not mistaken, the dude was winless in his career at home for Carolina. Good thing for him the Niners are on the road at Cleveland this week. Man, any of you gamblers out there, load up the moneyline on the Browns. Come on, Chris Weinke starting at QB? Gimme a break. Next thing we know Craig Krenzel's gonna be making an appearance in the league. Yikes.