Shaun Rogers Giving Up $6 Million Over Dislike of Eric Mangini?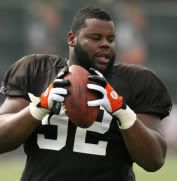 This was one of the more bizarre stories that I saw today. Not that I can't understand someone growing "disenchanted" with new Browns head coach, Eric Mangini, because I certainly can, but I was surprised to read that defensive tackle Shaun Rogers would rather ask the Browns to be released rather than get paid a $6 million bonus in March. Here's Rogers' reasoning, according to Adam Schefter, via Rotoworld:
Some of Rogers' feelings stem back to two offseason incidents in which he believes Mangini disrespected him. The first time, Mangini walked into the Browns' training room and failed to say hello to Rogers. The next time, at a public charity function in which both men were in the green room, neither said hello to the other, and Mangini later said he didn't know Rogers was there.
Mangini says he didn't see Rogers, which would be pretty miraculous in itself considering Rogers is 6'4″ and like 350-plus pounds. Sounds pretty in-character given Mangini's notorious history. To make matters worse, John Clayton says Rogers even requested a one-on-one meeting with Mangini and was rebuffed. Uh oh. Hey, I wouldn't want to play for the Browns either, but I'm not sure I'd give up $6 million to get out. Maybe he would. But I do agree with Rogers that Mangini strikes me as a coach for whom I wouldn't love to play.