Why Did Chargers Extend A.J. Smith?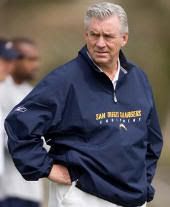 From potentially axed to now the GM with the most security in the NFL. The Chargers extended A.J. Smith for five years through 2014. I just don't seem to understand the timing of the move. Why would you lock him up long term (though I admit, I don't know how much of it is guaranteed), when your team was struggling at .500 only a month or so ago? I thought firing Schottenheimer was the right move as long as you replace him with someone better than Norv Turner. If the Chargers get bounced in the first round of the playoffs, or second round again, what good does it do them?
OK, I admit it — I'm just bitter because I was looking forward to Smith's firing following a disappointing season so Pete Carroll would make the leap to the pros. Now that Smith has the security, I can pretty much flush those plans down the drain. A.J. has an excellent record of drafting players including Shawne Merriman, Antonio Cromartie, and Marcus McNeill, not to mention signing Antonio Gates. But come on, hiring Norv Turner? That was a dumb move if you ask me. They'll make a playoff exit like they did last year and be stuck in disappointment. And for this, A.J. Smith gets rewarded. Makes me wonder what kind of legs Norv Turner will have.