Repeat Offender, Reckless Ovechkin Needs to Stop Playing Dirty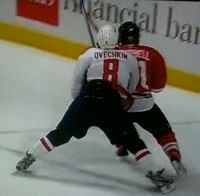 I think we have all seen the nasty hit that Washington Capitals captain Alexander Ovechkin gave Chicago Blackhawks forward Brian Campbell during Saturday night's game. Campbell was down on the ice for several minutes before being ushered off by team doctors while Ovechkin sat in the penalty box waiting to serve his five minute major. After reviewing the play, referees declared the hit "reckless" which led to his ejection from the game and a two-game suspension by the NHL.
Ovechkin didn't just shake up Campbell, his hit caused a broken collar bone and broken ribs, not to mention an early end to his season. But what does this to the NHL? The main reason people say they don't watch hockey is because of the violence. They don't want their children subjected to that. So when Ovechkin, one of the best players in the league, blatantly tries to injure an opponent, doesn't that turn people even further away from hockey? Ovechkin even tried to defend his hit:
"It was not a hard hit," Ovechkin said. "I just pushed him. It's a moment in the game. I don't think it has to be five minutes or something like that. I just feel bad. That's it."
No matter what the real intention was, I think that if you are the captain of your hockey team you need to own up to your actions. That's what real leadership is. Besides, this isn't the first time Ovi has done this. He's now a repeat offender in the league's eyes, and maybe he should get a reality "check" and know that you can win without playing dirty.
Sources:
Cap's Oveckin banned two games for Campbell hit [NHL.com]