The Caps Can Afford to Pay Ovechkin $124 Million?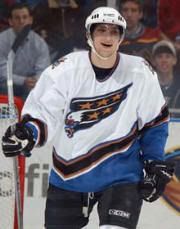 I'm sorry, I don't care what sport it is — $124 million is a lot of money. It was a lot when KG signed his big money contract for around that amount, it was a lot when Barry Zito did it, it was a ton when MLS sold their heart and soul for Beckham, and now it's especially a lot for the Caps with Ovechkin. Yes, you saw the news correctly, the Capitals signed Alexander Ovechkin to a 13-year, $124 million deal Thursday. The deal breaks down to $9 million a year the first six years, and $10 million a year the following seven. Really, on an annual basis, it's not too bad. But on the surface, for an NHL team to commit $124 million to a player makes you scratch your head.
It's good to see a team like the Caps make a commitment to lock up their star player. Ovechkin is right behind Crosby as the young stud in the league. It's also a good sign for the Caps to have enough faith in the economics of the league where they would make such a deal. Let's be real: $124 million is a lot of money — as I said — for any team to pay in any sport. The deal might leave you poking fun at the Caps and the NHL, but it's a great sign. It shows that the NHL is back and generating enough income for such a contract to be paid. Either that or the Caps are going out of business.