Yes, That's an Octopus on the Ice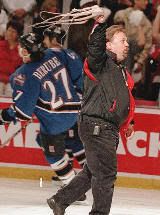 For the second time in a matter of days, I was asked by someone with whom I was watching the Ducks/Red Wings series, "what's that on the ice?" At that point it hit me — many people don't realize the tradition of fans throwing an octopus on the ice after a goal, or towards the end of a game (yes, it's a dead one). When I was also asked why it was done, I had no answer — outside of saying it's tradition. But I did some searching, and I found out why fans throw an octopus on the ice.
The Motor City's proud tradition of saluting the Detroit Red Wings with slimy creatures of the deep dates back half a century.

The first octopus landed on the ice during the Red Wings' 1952 Stanley Cup run, courtesy of a couple of lads from a local fish shop. If you know your cephalopods, you will know that an octopus has eight tentacles. In those days it took eight playoff wins to claim the Cup, hence the supposed symbolism of the gesture.
Well there you go! You learn something new every day. And I also know something else, I'm not the type who would walk into an arena and sit through two hours of hockey with a dead octopus under my shirt. I'm not exactly the guy who's first in on the beer bong, and I wasn't the type back in college to drop an olive in a martini glass with my ass cheeks, if you catch my drift.