Interview with Rachel Specter, Actress, RGX Bodyspray Starlet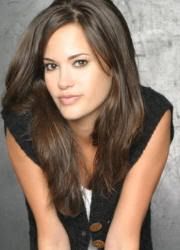 Longtime readers of the site are probably familiar with Rachel Specter. Yes, she's the hottie from the RGX commercials you see airing constantly on ESPN while you're watching sports. She's been working on several movies this summer, and is set to appear in the October issue of Maxim. Luckily for us, I was able to run her down for an interview. We talked about her career, how she landed the commercials, and how her life and popularity has changed since starring in the commercials. Our conversation follows:
How did you get the RGX gig in the first place?
I always wanted to act and grew up doing whatever I could do in Tampa Florida, which is not very much. When I was in college, I spent a couple summers in New York and interned at a talent agency and learned about the whole industry. As soon as I graduated, I moved to LA. I started the way that most people started who didn't really have any connections because I didn't know one single person in LA. I started sending head shots and went through the process of trying to get an agent and then started auditioning. With the commercials, I had done a bunch of national commercials before this so this audition was just like any other audition. I went to it and ended up getting it. For the first audition, I read that they had six commercial spots and you had to read all of them. Then it was funny at the callback a lot of these things that you go to you see different versions of yourself just like all these girls that kind of look similar to you. So it was like walking into a room with all these pretty brunette girls. And I ended up getting it which was awesome because it's been really great for me.
Did you have an idea when you landed it that it would lead to where it has today?
No, I honestly had no idea. People told me that it was going to be huge but I kind of just laughed it off. This industry is so crazy I just take everything as it comes — I never really believe the things that people tell me and get excited about things. So many things don't follow through so I didn't really expect anything from it.
Do you think it's been a stigma attached to your name that you are the RGX Bodyspray girl, or do you think it's good because it's helped you gain notice?
I think it's good because it's gotten me noticed more. It's not like I had done nothing other than these body spray ads. I had been working for a while; I had been doing a lot of commercials and acting roles so it kind of happened at a time when I was already being successful as a working actress. I guess it was good because it publicized me more at a time when I was ready to take on more jobs.
You've become a celebrity in the sports world because your commercials pop up all the time when guys are watching ESPN and there is this hot girl in these commercials telling you how much she wants you. At what point did it start to catch on for you that "Wow, a lot of people know who I am?
The first thing that made me realize it was when I started getting a crazy amount of Myspace messages. I was like OK, obviously my commercial has started airing, and people have figured out who I am. My brother is pretty internet savvy — he would email me links to things of people saying things about me.
What are some of the upcoming projects you are working on?
This summer I've worked on four movies. One of them is called Prom Night — it's a remake of an 80s horror/thriller movie. That should be out in April. I'm doing a comedy called Deep in the Valley with Tracy Morgan, Denise Richards, and Scott Caan. I'm almost done with this movie called I Know What Boys Like. It's a Happy Madison, Adam Sandler comedy. It's the writers of Legally Blonde who wrote it, Katharine McPhee, Anna Farris, and Rumer Willis are all in it — it's a good female cast.
That title seems very appropriate based on your commercials. Have you always been that girl, or is this sort of a new thing for you?
Growing up I never really got any attention from guys at all. I was very much into reading and that was pretty much it. I remember the first day I got to high school, guys started paying attention to me. I was so confused because that had never happened before. I don't know what changed, I don't know. I didn't always have that attention; I wasn't the popular girl. I think that's a good thing because it made me a well-rounded person.
So it did happen at some point because you knew you wanted to go this direction with your career, right?
Well I always knew I wanted to do it. But you're never really sure if you have the confidence to do it. I come from a very practical family where education is really valued. Nobody really did anything creative like this and they never thought of this as like an actual option.
So what's it like for your family or friends who see you on a national level with all the popularity, and in essence, fame you've gained from it?
I think it's really exciting for them. I know my parents are really thrilled. My friends from home are really excited and everyone's really supported me. My parents are funny because they don't really understand what's going on in this industry. Sometimes I'll tell them things that I think are a really huge deal and they don't really get it. Sometimes they'll be really excited about things that aren't a big deal and not be excited about the things I want them to be excited about.
What is your taste in guys?
I like guys who have a really good sense of humor. I think people always say this, but personality is so important because you need to be able to have a conversation with people. I think that's the most important thing in a guy I would date. Also ambition. Not necessarily success, but just having a lot of motivation and ambition is important.
In your experiences, what are the most important factors for guys?
I think for a lot of people in general, if they're just looking for a fling, then they just factor in looks. But I think if they're looking for something more substantial, then obviously intelligence and personality is a key factor.
What is your ultimate goal and how close do you think you are to achieving it?
You know how all the Judd Apatow group of guys are writing their own movies and starring in their own movies and having huge success? I want to be the girl version of that. I would love to write something for me to star in and to be able to work with my friends and be successful together. I don't know how close I am to that, I have been writing a lot but I don't know how close I am to getting anything off the ground. But that would be my ultimate.
Previous Interviews on LBS:
Brian Powell, Awful Announcing
Adam Schefter, NFL Network Reporter
Ben Maller
Boxing Judge Chuck Giampa
Sean Foreman, Baseball-Reference Founder
Zach Landres-Schnur, The Big Picture