A Chicago-less World Series Now?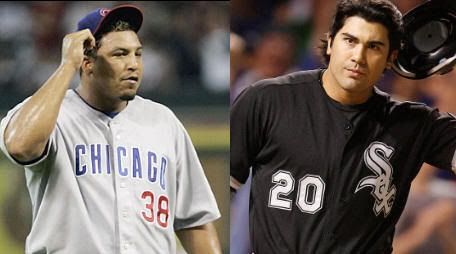 I don't remember the World Series hopes of teams taking bigger hits than what both Chicago squads went through this week. Sure, the Rays losing Carl Crawford and Evan Longoria in a span of a few days was bad, but those guys at least were on schedule to return before the playoffs began (Longoria more so than Crawford). You could hear the panicking from Cubs fans across the country as Rich Harden had a start pushed back to rest his arm. If that wasn't enough, Carlos Zambrano had an MRI that revealed rotator cuff tendinitis and inflammation. Neither pitcher is in the rotation at the moment, and the Cubs have lost six in a row. And to top off the bad news in the Windy City this week, Carlos Quentin, who had missed games with a forearm injury, was scheduled to have surgery that will probably end his season. That's a lot of difficult news for one city to digest in a short amount of time.
While the White Sox are losing their biggest bat and Quentin no longer will win the MVP award (he was my top candidate), they can still live on without him. They'll need Paul Konerko, Nick Swisher, and Ken Griffey Jr. to step up while he's out (how much better does Kenny Williams look now for bringing Griffey in?). They're taking a hit, but they can withstand it. As for the Cubs, the natural reaction is to panic. But look at the big picture here: you're still going to win the division, and your top line starters will have plenty of rest to be fresh for October. I wouldn't be worried. Josh Beckett had to miss two starts for the Red Sox, see Dr. James Andrews about his elbow, yet he returned to throw a shutout against the Rangers on Friday. If he rebounded and did fine, Harden and Big Z should be able to regain top form. Things in Chicago may have looked bleak this past week, but I wouldn't sweat it — both teams still have just as good a chance as any to make it to the Fall Classic.