David Ortiz, Ozzie Guillen Are on the Right Track with One-Year Bans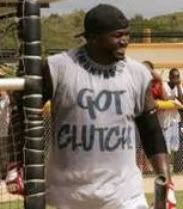 I used to be one of the biggest baseball fans around. This year, things will change. I'm tired of the steroids issue tainting the game and obscuring my enjoyment of it. I've had enough of seeing guys like J.C. Romero, Rafael Betancourt, and Guillermo Mota get busted and come back like nothing happened. I'd like to watch the game without having doubts or second thoughts about the legitimacy of player's performances. To achieve this peace of mind, harsher penalties for banned substance violators should be put in place. To that end, both Ozzie Guillen and David Ortiz took a stand. Guillen says a one-year ban should be in place for first-time violators rather than just 50 games, and David Ortiz expounded up on that thought:
"Ban 'em for the whole year. I would suggest everybody get tested, not random, everybody. You go team by team. You test everybody three, four times a year and that's about it. I think you clean up the game by the testing. I know that if I test positive by using any kind of substance, I know that I'm going to disrespect my family, the game, the fans and everybody, and I don't want to be facing that situation. So what would I do? I won't use it, and I'm pretty sure that everybody is on the same page. I just want to go out there and make sure that people are not looking at you like, oh, look at this guy. He's big now. What's going on?"
Amen. Thank you, Big Papi. Now this is what I've been waiting for. What's so hard about players telling the Union that they want harsher penalties and testing so they can prove their legitamacy? Now it's on MLB and the union to amend the CBA to make this happen. Ortiz wants it, Ozzie wants it, and I want it. They need to make a bold move to save the game, and this is the one to make. Only difference is I'd like two years for first-time violators. Boy, would that send a message. Best of all, it still wouldn't prevent creeps like Gene Orza from tipping off the superstars that tests were coming!