Marlins Bribing Fans to Stuff All-Star Ballot Boxes with Tickets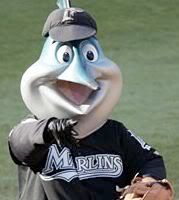 Three years ago, I was pretty incensed that Giants fans had created a computer program to vote Barry Bonds into the All-Star game at AT&T Park. Because of the program, Bonds overcame a 119,000 vote deficit in the final days to overtake Alfonso Soriano by around 123,000 votes. There isn't much question that the computer program had a major impact and helped stuff the ballot box in favor of Bonds who otherwise wouldn't have made it in. If I was so upset over the perceived cheating by Giants fans in that situation, why am I less bothered by what the Marlins are doing with their fans? Probably because they're encouraging fans to vote for their hometown Marlins the old-fashioned way — by punching 200 ballots all by hand!
As I was tipped off by Hardball Talk, the Marlins are encouraging fans to vote their players into the 2010 All-Star Game in Anaheim with bribery. The team is giving away two tickets to an upcoming game against the Brewers to fans who vote for all Marlins on 200 All-Star ballots. As if that's not enough, the team is also giving memorabilia away for people who take home ballots and vote anywhere from 1,000-20,000 times. They're also providing ticket vouchers for those who vote online 25 times.
Initially I was on board with all of this, thinking that the Marlins needed all the help they could get, and that some support from their few fans would be a good thing. Howeva, if I start seeing Gaby Sanchez leading at first base over Albert Pujols, then I won't be happy. I've always felt that All-Star selections should be based on merit and I've prided myself on making my selections as an informed fan. This reeks of ballot box stuffing and there's no reason MLB should have approved it. Then again, anything that will increase the traffic to their website and they'll be happy, so what do they care? It's not like "doing the right thing" is ever high on their agenda. Hanley Ramirez, Dan Uggla, and Josh Johnson should be representing the Marlins at the All-Star Game in Anaheim. Probably only two of them will make it.
Sources:
The Marlins are trying to stuff the ballot box or something [Hardball Talk]
Florida Marlins resort to 'bribery' to induce All-Star voting [Palm Beach Post]