MLB Playoff Preview: American League
The National League playoff picture has yet to become clear, with only the Cincinnati Reds and the Philadelphia Phillies looking comfortably ahead of their division rivals. As such, we'll take a look at the strengths and weaknesses of the American League powerhouse teams where the playoff picture is more clear.
The truth is, predicting who will win the World Series, even when picking from eight teams, is a crap shoot at best. The five and seven game series can easily go either way and the better teams, as proven by the 162-game schedule, rarely have any significant advantages over such a short span.
A few points of particular interest, when looking at playoff contenders, are their strengths or weaknesses in the secret sauce categories. During the eight team, Wild Card-era of baseball, teams that have had the most success have three things in common: strikeout pitchers, good team defense and a good closer (all of these are adjusted for ballpark and competition and all that junk).
Each win in the playoffs is that much more valuable, so closers often get extended for two and even three innings while good defenses keep games close. Good offensive teams do not have a significant edge in the playoffs because they face more power pitching and rarely get to see number four or five starters.
So how do the American League teams stack up? Let's find out:
NEW YORK YANKEES
Strengths: The plan for the Yankees is to have CC Sabathia, Andy Pettitte and A.J. Burnett start the bulk of the games with Phil Hughes (pushing his innings limit) mixing in as needed. Their team defense, as measured by defensive efficiency is second-best in baseball, thanks to adding Mark Teixeira and Curtis Granderson, and allowing speedy Brett Gardner to cover left field. Their closer, of course, is Mariano Rivera, who needs no introduction when discussing the post-season. Offensively, the Yankees can bang with the best of them. With a team full of patient hitters with few weaknesses, they will wear down opposing pitchers.

Weaknesses: Where they are weakest is their pitching after Sabathia, Rivera and Pettitte. Will they be able to count on Burnett for three good starts or Joba Chamberlain to get the ball to Rivera? Defensively, the left side of their infield, with an old Derek Jeter and a hobbling Alex Rodriguez, leaves something to be desired.

Bottom line: This is a strong secret sauce team that plays well as a unit and has tons of playoff experience. The defending champions will be a tough team to beat for Texas or Minnesota, depending how the AL East finishes up.

MINNESOTA TWINS


Strengths: This is not the Minnesota Twins of a few years back that pitched and played defense. These guys can hit and they have done so without Justin Morneau, who is recovering from post-concussion syndrome. The offense is also very balanced, with a healthy mix of left and right-handed hitters. They have a solid, deep bullpen with guys like Matt Capps, Brian Fuentes, Jon Rauch and Jesse Crain holding down the fort.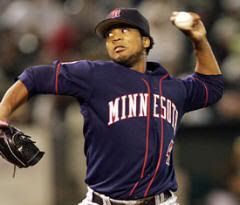 Weaknesses: The Twins will run out Francisco Liriano, Carl Pavano, Scott Baker and Kevin Slowey, which is a good little group of strike-throwers, but they lack in stuff, outside of Liriano. The same can be said for the back-end of their bullpen. They ranked 12th in baseball in defensive efficiency–which is not bad–considering they have Delmon Young and Jason Kubel roaming the outfield corners and Michael Cuddyer at first.

Bottom line: The Twins lack in the secret sauce categories, the most worrisome of which is their closer (Capps) and number two through four starters. They may have trouble getting past the Yankees or Rays.

TAMPA BAY RAYS


Strengths: The Rays were built to pitch and play defense. The entire staff is deep, top to
bottom, led by David Price in the rotation and Rafael Soriano in the bullpen. Defensively, the team ranked third in baseball in defensive efficiency with plus-plus defenders in Carl Crawford, Evan Longoria and Ben Zobrist. The Rays also run the bases well, with six players stealing 10 or more bases. As a team, they are successful in 78% of stolen base attempts.

Weaknesses: The Rays are prone to strikeouts and lack power. With the exception of Price, their rotation gives up a lot of home runs. It is difficult to count on Jeff Niemann (who has been fading badly down the stretch) or Wade Davis to make quality starts in the post-season and even Matt Garza and James Shields can be inconsistent.

Bottom line: The Rays are a very dynamic team that … you guessed it, pitch and play defense. What their offense lacks in power and hitting, it attempts to make up for in speed.

TEXAS RANGERS



Strengths: The Rangers have a very strong one-two-three punch in Cliff Lee, Colby Lewis and C.J. Wilson, which matches up well with any playoff team. Neftali Feliz brings serious heat as the team's closer, but he is untested in post-season play. The rest of the bullpen has done well in a difficult pitching environment. They ranked sixth in baseball in defensive efficiency thanks in large part to Josh Hamilton and Nelson Cruz. The Rangers also are a very strong home team, posting a .649 winning percentage in Arlington.

Weaknesses: Their offense is solid, but many players like Hamilton, Michael Young and Ian Kinsler are totally different players on the road. This is bad news for Texas because the Rangers will not have home field advantage in any series, including the World Series, should they make it to that point. Most of the core Rangers players have not played in the post-season with the exception of Lee, and he has not been the same pitcher since moving to the Ballpark in Arlington where he has been plagued by the long ball.

Bottom line: The Rangers pitch well and in acquiring Lee, made themselves into a serious playoff team. They lack playoff experience but have a very talented roster. They will need Hamilton to be healthy by the time the playoffs start.

Bottom-bottom line: Four very different, very exciting teams in the American League. It is hard to bet against the Yankees, but they do have major weaknesses on paper. I think it will be the Rays and the Yankees who advance and I will take the Rays making it to the World Series, but your guess is as good as mine.