Ozzie Guillen: Chicago Is Lucky to Have Him and Lou Piniella in Same Town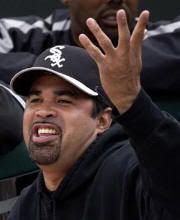 I've already been pretty outspoken regarding my feelings for Ozzie Guillen. The man has some of the best rants in the history of the game. The guy just really livens things up and knows how to make a 162-game schedule interesting. And does it get much better than Ozzie's comments about Dustin Pedroia being a jockey? I don't think so. Well, Ozzie was out to prove that he can be funnier than that, holding nothing back in an interview with Sporting News Magazine. Check out some brilliant excerpts:
"I got Cubs fans who are friends. I say (expletive) you. The Cubs fans, they're cocky. They've been (expletive) for a lot of years, but they're cocky. They let you know they're No. 1 in town. But I got a lot of friends with the Cubs. Lou Piniella, I love that man. That's my goal-manage that many years. The best thing that happened to (expletive) Chicago is Lou Piniella and Ozzie Guillen in the same (expletive) town. (Expletive) the boring-(expletive) guys every day. Some people have to be politically correct, some people have to be (expletive) up. That's Lou Piniella and Ozzie Guillen."
It's just one giant f-bomb filled rant. Typical Guillen. But he does make a great point about the Chicago media bias towards the Cubs.
"If (Carlos) Quentin was playing for the Cubs, he'd already be MVP. If (Alexei) Ramirez was with the Cubs, he would be National League Rookie of the Year. They talk about (Cubs rookie Kosuke) Fukudome more than they talk about Ramirez."
It's not just Chicago — it's everywhere. Quentin easily was my MVP before he went down, and I really can't find a better candidate than him through this point in the season. The bias towards the Cubs is pretty evident. Man, I can't wait to dig into the magazine when I get it on Thursday to read the interview. Long live Ozzie Guillen!